Skip to Content
Franklin's Favorite Coffee Spot
Nestled in Franklin, WI, and just outside of Milwaukee, Blend Coffee and Cocktails is your new favorite coffee shop. Only, it's much more than just a run-of-the-mill coffee shop. During the day, we serve delicious fresh brews, but at night, we bring out the cocktails and feature all your favorites. Beyond our drink menu, you'll also have your pick from our breakfast options, dinner selections, and a slew of sweet bakery items. With so much to offer, you'll see why we've quickly become a staple in Franklin and the surrounding areas.
What's Your Drink of Choice?
At Blend Coffee and Cocktails, we're known for delectable freshly-brewed coffee, as well as tangy cocktails. Our menu is chock-full of hand-selected brews made to satisfy even the pickiest patron. You'll find everything from traditional caramel lattes to refreshing lemonade combinations (make sure to try them frozen!). In fact, you could try a new drink every day for a month and still find new favorites. Find your new drink of choice on our menu:
Fresh Coffee Brews
Dark, luxurious blends that will leave hard-to-please coffee lovers wanting more.
Lattes
Choose from our baristas' top latte picks, including honey almond, iced cinnamon, and brown sugar.
Lemonades
Everyone loves a traditional lemonade, but why not spice life up a bit? We serve bright, fruity drinks with hints of kiwi, pineapple, mango, and more.
Fresh Tea Brews
Relax and decompress with a cup of tea. Our menu features jasmine green tea, peach blossom white tea, and Earl Grey lavender.
Create Your Own
Perhaps you're in the mood for custom creation. In that case, visit our espresso and tea bar where you can personalize your drink.
Classic and Signature Cocktails
Our menu features classic drinks (think margaritas and old fashioned), as well as unique takes on your favorite cocktails
Martinis
Our bartenders can whip up nearly any martini you have a hankering for.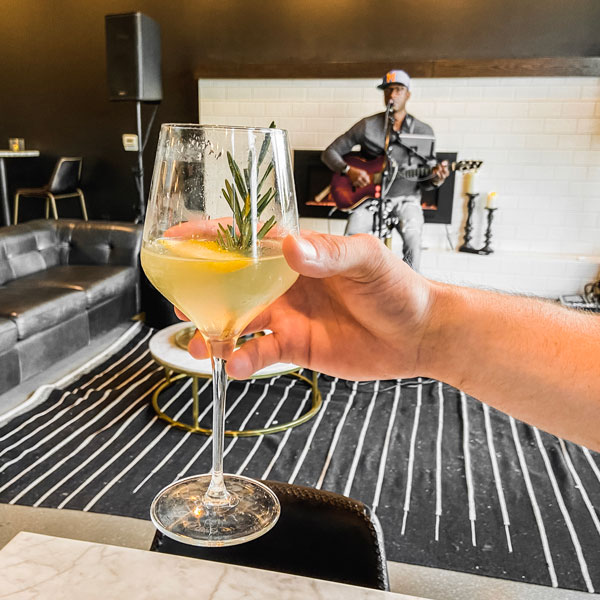 A Hot Spot for Special Events
Are you looking for ways to spend a relaxing evening? Maybe you're on the hunt for an event venue to host your own celebration. You're in luck—Blend Coffee and Cocktails is known for holding special events each month, and we welcome patrons to ask about hosting an event on our grounds. Visit us for a bourbon tasting or stop by during our next acoustic music night.
Join Us for Coffee and Cocktails